Naturaseal's RadonShield protects you and your family with an eco-friendly product.
What Is Radon?
Radon is a naturally occurring radioactive gas that accumulates in soil and rock as a result of the natural breakdown of uranium. The radon can seep from the soil into nearby homes, creating a significant health risk.
Health Canada recommends that homeowners take action to reduce radon levels that exceed the federal guideline of 200 Bq/m3. It is estimated that 7% of Canadian homes fall into this category.
Like many natural gases, radon is odourless and colourless. Without radon testing, there is no way to tell whether the radon levels in your home are excessive.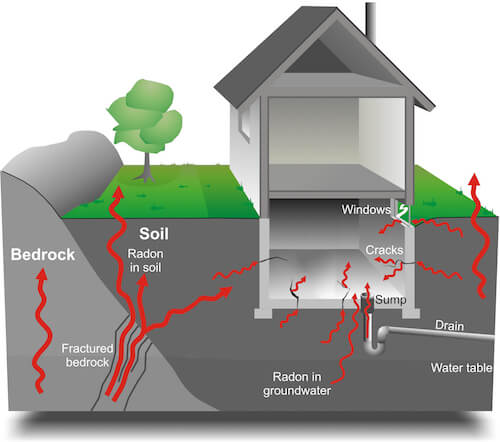 How Does Radon Enter My Home?
Radon can enter homes through cracks or gaps in foundations, or at any point where the structure is in contact with soil. Possible entry points include:
Exposed soil in crawl spaces

Cracks in foundation walls

Hollow support posts

Cracks in the floor slab

Joints between the floor and walls

Floor drains and sumps

Unsealed sections at the top of exterior walls

Gaps in mortar
It is difficult for most homeowners to visually inspect their basements to see where radon might be coming in. Radon entry points tend to be hidden by carpeting, wallpaper, appliances and other objects.
It should be noted that radon is sometimes found in household water supplies that come from private or community wells. However, since the danger in radon comes from inhalation, the risk associated with consuming it is low.
Why Is It A Health Risk?
When radon is inhaled, particles settle in the lung tissue and start to decay.
Bursts of energy that are released during this process can result in cell damage that leads to the development of lung cancer. Radon carries a higher risk of cancer than any other indoor carcinogen, and is the leading cause of death from lung cancer in non-smokers. The effects of radon can be long-lasting: many years can elapse between radon exposure and the onset of disease.
How Can I Tell If My Radon Levels Are Too High?
All buildings contain a certain amount of radon. The levels vary throughout the year, depending on weather conditions, how frequently doors and windows are opened, the ventilation in the home and other factors.
Most established hardware stores carry short-term and long-term radon test kits. To carry out a test, simply follow the test set-up instructions, and when the testing period is over, mail the sample to the address provided with the kit, and you will receive a report via email.
The short-term kits, which test radon levels over a period of a few days, are a useful way of determining whether a plan to reduce radon is working. However, since the radon levels vary over the course of the year, a long-term test is recommended in most cases. This will test your levels over a period of three to nine months.
You can also purchase a radon alarm, which will let you know immediately if your radon levels have risen above a certain threshold.
What If High Radon Levels Are Detected?
Although there are some measures you can take yourself to reduce your radon levels, a certified radon mitigation contractor should be hired. At Naturaseal, we are certified with the Canadian National Radon Proficiency Program (C-NRPP). We will come into your home, and conduct a full analysis of what radon protection measures need to be taken.
Health Canada recommends that radon levels between 200 and 600 Bq/m3 be remedied within two years. Levels above 600 Bq/m3 should be remedied within one year.
This is best done by applying a radon-proof seal to your basement walls and floor. Naturaseal's RadonShield product will coat your entire basement in a coating that will keep out water, mold and radon. It is highly elastomeric, and will not crack as your foundation walls expand and contract as a result of seasonal weather changes. This is radon protection that is guaranteed to last.
How Can I Prevent My Radon Levels From Rising?
If your basement is unfinished, or if you are planning a major renovation, consider using Naturaseal's RadonShield. This is a certified environmentally friendly product that will keep you and your family safe from the dangers of radon.
Radon Protection Products